There's no denying that 2017 brought a number of trials and tribulations for the LGTBQ community. In spite of numerous attacks that LGBTQ members have faced around the world (such as the Trump administration attempting to reinstate a ban on transgender people in the military), queer people were still able to watch the throne and fight for their power no matter what was thrown at them. Such victories include the record-breaking number of LGBTQ characters that appeared on TV in 2017 (according to GLAAD), and the legalization of gay marriage in Germany, Australia, Malta, and Taiwan.
2017 saw a number of victories for the queer community, but not enough. The new year called for a fresh start, and what better way to kick off 2018 with a rebrand? Social media was quick to coin the term #20GayTeen, and this fabulous new name even caught the attention of Lesbian Jesus herself, Hayley Kiyoko. The former Disney star-turned-queer icon took to Twitter to officially declare that 2018 will be the gayest year ever, and used the hashtag to announce her debut album.
https://twitter.com/HayleyKiyoko/status/947410661574717440
"It's our year, it's our time. To thrive and let our souls feel alive. #20GAYTEEN," she wrote. She received an overwhelmingly positive response from fans, who used the hashtag #20GayTeen to show their support.
https://twitter.com/haylesus/status/1003686440818106369
https://twitter.com/LexaAddict/status/947047474023321600
The indie-pop singer first broke the Internet with the release of her 2015 music video for "Girls Like Girls," which has a whopping 91 million views on YouTube, and features two young females on an endeavor to establish their sexual identities. Since then, Kiyoko has released a number of iconic queer anthems such as "Gravel to Tempo," "Sleepover," and her latest release with Kehlani, "What I Need."
The 27-year-old singer has consistently been vocal about her sexuality and the importance of LGBTQ role models in the media, stating in an interview with Refinery29 that her goal is to "inspire fans to find happiness in themselves earlier on, so they don't have such a tough time growing up." She says, "The world is a hard, difficult place right now. But it can feel a little bit easier if you believe in yourself."
Kiyoko commenced Pride Month with the release of the video for "What I Need" with Kehlani, and fans went absolutely ballistic when the two were featured taking part in a hot and heavy make-out session on the side of the road. "What I Need" was truly the queer anthem that we needed, and is the perfect example of how LGBTQ musicians are shaping the world of music. Artists such as Hayley Kiyoko, Kehlani, Troye Sivan, Tegan and Sara, Halsey, and Sam Smith are paving the way for the queer revolution, and opening up important discussions about sexuality, identity, and acceptance.
With that being said, what better way to celebrate Pride Month than commemorating all of the amazing queer moments that #20GayTeen has offered us so far? Here is our list of the 18 best moments that happened so far in #20GayTeen.
For more LGBTQ+ goodness, check out Much Pride, a new five-part series of honest answers, eye-opening interviews and visuals, and a diverse celebration of what it means to be proud.
1. Former Disney star Alyson Stoner came out as bisexual in a heartwarming essay
In the essay about how she embraces her sexuality, Stoner writes, "In its purest sense, I felt awakened, more compassionate, and like my truest self."
https://twitter.com/AlysonStoner/status/979764909784182784?ref_src=twsrc%5Etfw&ref_url=http%3A%2F%2Fwww.popbuzz.com%2Flife%2F20gayteen-moments%2F
2. Love, Simon became the first film by a major Hollywood studio to focus on gay teen romance.
Based on Becky Albertalli's 2015 novel Simon vs. the Homo Sapiens Agenda, the film follows a 17-year-old boy named Simon who falls for Blue, his online pen pal. Throughout the film, Simon discovers more and more about his identity and even contemplates coming out to his friends and family members.
3. Demi Lovato and Kehlani share a seductive kiss on stage.
Kehlani stated that Lovato's dancers were the ones who convinced her to do it. She later posted on Instagram that getting to do the tour with Lovato was a dream. "Watching you every night was a learning experience and you forever have a fan and supporter in me," she wrote. "tonight your dancers put me up to this but anyone would be stupid not to jump at the chance to hop on that damn moving bed and grab your face looooool. i love you and appreciate you, beautiful. cheers to you, more life and success on the rest of the legs of this tour."
The 28-year-old figure skater qualified for the 2018 PyeongChang Olympics in the U.S. Figure Skating Championships, making him the first openly gay male to qualify for the Winter Olympics.
https://www.instagram.com/p/BYTun6ilDY8/?taken-by=adaripp
5. Surprise! Ellen Page announces her marriage to Emma Portner on Instagram.
Portner, who has choreographed dances for Justin Bieber, dropped the news via social media at the same time as Page did. The two were first romantically linked in 2017.
After keeping her sexuality a secret for years, Page finally decided to come out in 2014 at a Human Rights Campaign event for ccounselorsof LGBTQ youth in Las Vegas. She states, "I suffered for years because I was scared to be out. My spirit suffered, my mental health suffered, and my relationship suffered. I'm standing here today, with all of you, on the other side of that pain. I am young, yes, but what I have learned is that love – the beauty of it, the joy of it, and yes even the pain of it, is the most incredible gift to give, and to receive as a human being. We deserve to experience love fully, equally, without shame, and without compromise."
6. Queer Eye gets a revitalized reboot that causes fans to stan every moment that The Fab Five has to offer.
Antoni, Tan, Bobby, Karamo, and Jonathan spread positivity and love as they teach men who are stuck in a rut about self-presentation and self-acceptance. There's laughter, there's tears, and there's a ton of lingo the guys use that will make you want to add a little more "YASSS" to your vocabulary.
https://www.instagram.com/p/BjPrujRFzdN/?hl=en&taken-by=queereye
7. Brooklyn Nine-Nine was resurrected by NBC just one day after Fox announced the cancellation of the show.
The cult-favourite show does diversity right by shining the spotlight on three-dimensional LGBTQ characters. Both Detective Rosa Diaz and Captain Ray Holt are queer POC, however, these factors don't define the actions of the tough-as-nails characters that they play in the show.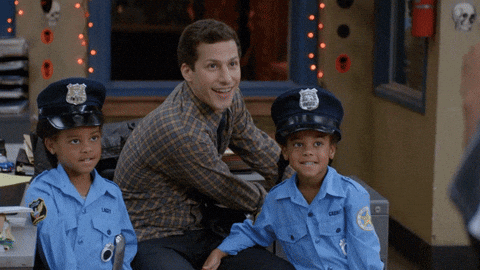 8. Teddy Geiger makes her first public debut after coming out as trans.
The 29-year-old producer, who has written songs for superstars like Shawn Mendes, One Direction, and Tiesto, made her first red carpet appearance since coming out as trans at the 2018 BMI Pop Awards in Beverly Hills in May, and she couldn't look more stunning. Geiger first announced her transition on Instagram in October, and has been documenting her journey on social media ever since. In November, she confirmed that she prefers female pronouns, and that she had begun hormone replacement therapy.
9. Ariana Grande writes a heartwarming letter to the LGBTQ community.
In the letter, Grande expresses how she idolizes her queer brother Frankie Grande, and how she learned how to do her makeup from New York City queens in gay bars. Grande writes: "My music being embraced and celebrated by the LGBTQ community is all I ever truly cared about when I thought about my career goals early on. There's no award I could win or accolade I could receive that would fulfill me more than seeing a 6-foot queen with a 4-foot ponytail walk into my meet n greet and say "hey girl" or meeting a young queer person at Starbucks and them letting me know that my music has helped them become who they are. Literally nothing."
https://www.instagram.com/p/BeZQS73BnV9/?hl=en&tagged=arianaandfrankie
10. Troye Sivan is the envy of dancing queens everywhere in the "My! My! My!" video.
The South-African born singer went from YouTuber to pop-sensation after he began to upload vlogs in 2012. By 2016, he acquired 4 million subscribers who religiously tune into his vulnerable, relatable, and humourous vlogs about teenage life and coming out.
11. Janelle Monae comes out as pansexual in an interview with Rolling Stone.
Monáe first came out as bisexual, however, after reading about pansexuality, she reevaluated herself and realized: "Oh, these are things that I identify with too.' I'm open to learning more about who I am."
https://www.instagram.com/p/BiCjQBcBBT9/?hl=en&taken-by=janellemonae
12. Monáe also released the cinematic ode to vaginas in her music video for "PYNK."
The song is featured on Monáe's album for Dirty Computer, which includes some of the most personal content that we've seen from the artist so far. The video for "PYNK" is an unapologetic celebration of self-love and sexuality and features dancers who are swaying in pink and magenta ruffled pants, which deliberately resemble vaginas.
13. Timothée Chalamet charms Hollywood in Call Me by Your Name.
Chalamet delivers an incredible performance as Elio Perlman, for which he was nominated for Best Actor at the Academy Awards. The coming-of-age drama depicts a progressive, romantic relationship between two young men in Lombardy, Italy.
14. Abbi Jacobson comes out as bisexual.
In an interview with Vanity Fair, our favourite Broad City star speaks on her sexuality, and that she's currently open to meeting someone. "I date men and women," she states. "They have to be funny, doing something they love. I don't know — I've never really been interviewed about this before."
https://www.instagram.com/p/BY-D5wlANic/?hl=en&taken-by=abbijacobson
15. Kesha officiates a same-sex wedding in "I Need a Woman to Love" video.
The track is a reworking of "I Need a Man to Love", originally sung by Janis Joplin, and is featured on Universal Love – Wedding Songs Reimagined, a 2018 album of same-sex wedding songs by various artists such as Bob Dylan, St Vincent, and Kele Okereke. All songs on the album tweak pronouns to represent same-sex romance.
16. CupcakKe leads an LGBTQ dance-off in her video for "Crayons."
Chicago-based rapper CupcakKe hasn't been shy about speaking up for her support towards the LGTBQ community (she even has a song titled "LGBT"). "Crayons," a single from her 2018 album Ephorize became a queer anthem that proclaimed "Boy on boy, girl on girl / Like who the fuck you like / Fuck the world." Its accompanying video brings positivity and sunshine to viewers, showing two men who are walking down the sidewalk and holding hands are confronted about their sexuality. A brightly dressed coloured crowd of people quickly defend them, and the crowd then plunges into a dance party led by CupcakKe.
17. Blockers, an American comedy that conveys a prominent queer story-line, earned over $87 million worldwide.
Although the basic concept of the film sounds like another raunchy teen sex comedy, Blockers delivers a touching narrative about the quest for self-acceptance that a gay teen faces, along with the somewhat misguided help of her father.
18. And of course, the steamy kiss that Hayley Kiyoko and Kehlani share on the side of a road in the "What I Need Video," in which Kiyoko directs, stars, and performs in. Talk about a triple threat.
The video depicts two best friends who have fallen for one another, but struggle as one person isn't ready to come out of the closet, and the fact that Kiyoko directed the video proliferates the authenticity that the queer narrative has to offer. "What I Need" was released shortly after Kiyoko spoke out against "Girls," by Rita Ora, Cardi B, Charli XCX, and Bebe Rexha. The song was originally meant to address same-sex love, however came off as problematic to many listeners.
https://twitter.com/HayleyKiyoko/status/995026145484689408