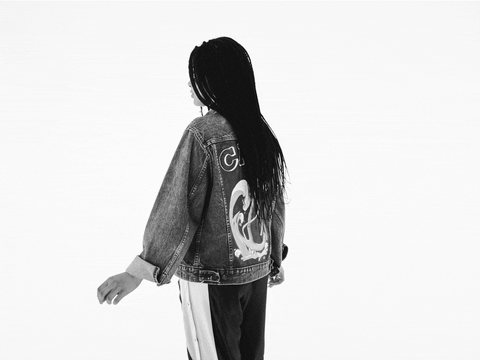 Earlier this year, Drake dropped his receptive long-form collection More Life. But instead of enlisting cameos from his fellow hip hop and R&B artists in the United States, he hopped across the pond to search the UK for guest appearances.
It was there that he discovered 20-year-old songstress Jorja Smith.
Dubbed the "UK's soulful answer to Rihanna," Smith is a Walsall, England native whose music can be described as introspective soul, drawing comparisons to Lauryn Hill and even Prince. It's politically charged, blues music for the right now that has a feathery, timeless quality to it.
Since More Life, Smith has being working to go global. She is the supporting act for the American leg of Bruno Mars' 24K Magic Tour, was named on BBC Music Sound of 2017 'ones to watch' list, won the 2018 Brits Critics' Choice Award and even released a new garage banger of a single titled "On My Mind." But, few know that Smith got her start in music as a teen and debuted her first EP in 2016, before she became known as Drake's girl from Walsall.
Everything started with "Blue Lights"
Smith's mother, a jewelry maker, and her father, who played in neo-soul band 2nd Naicha, recognized their daughter's musical talents early on and encouraged her to enroll in a performing arts school. Smith previously told Billboard she fell in love with music at age 11 and wrote her very first song at that age titled "Life Is A Path Worth Taking."
By age 15, Smith had gained the attention of her current manager after posting a cover of Alex Clare's "Too Close" online.
By the time she graduated high school, Smith had a notebook full of material to jumpstart her music career including the tracks "Teenage Fantasy," "On My Mind" and most notably, "Blue Lights." Her voice is straightforward and sultry, but her song's lyrics carry messages of love, politics and honesty.
"Blue Lights" was self-released in January 2016 as Smith's debut single—a crooning song that mixes English grit with empathy. It was an instant hit in the UK and regularly played on London radio.
Taking inspiration from Dizzee Rascal's 2007 political statement "Sirens," the song details that of the strained dynamics between people of colour and the police, particularly when it comes to music. "Blue Lights" was inspired by Form 696, a mandatory licensing document that, until 2008, required event promoters to inform police of the ethnic makeup of their audiences. It often led to police shutting down music events simply because of a majority black audience.
To close out 2016, Smith dropped her EP Project 11, highlighting her range by covering different matters and genres within the four tracks.
Then there came Drake and More Life
After showcasing her undeniable talent on her EP, Smith earned not one, but two guest placements on Drake's hearty 21-track playlist. Smith's feathery vocals dazzled on "Jorja's Interlude" and "Get It Together," putting the then 19-year-old on mainstream music's radar.
After making her voice heard on More Life, Smith took to North America to deliver a small, intimate tour, which of course included a surprise appearance from Drizzy at her Toronto stop.
https://twitter.com/drewyorke/status/900930461475721216?ref_src=twsrc%5Etfw&ref_url=http%3A%2F%2Fwww.thefader.com%2F2017%2F08%2F25%2Fdrake-jorja-smith-toronto
This time last year, Smith was still a barista at Starbucks recording voice notes of impromptu song lyrics in the stockroom. Now, thanks to her cameos on Drake hits, Smith's fanbase has grown exponentially, leading her to work on her forthcoming debut LP. Smith's rising star just goes to show what a mix of incredible, raw talent and the Drizzy stamp of approval can do in 2017.