If anything has been proven over the last year, it's that Rihanna's pop culture domination isn't just limited to music.
Besides a slew of her own singles and guest spots on smash hits, RiRi returned to the big screen alongside Cara Delevingne in Valerian and the City of a Thousand Planets, starred as Marion Crane in the final season of Bates Motel, was named Harvard University's Humanitarian of the Year and released a new collection of her Fenty x PUMA fashion collaboration at New York Fashion Week—because really, what can't Rihanna do?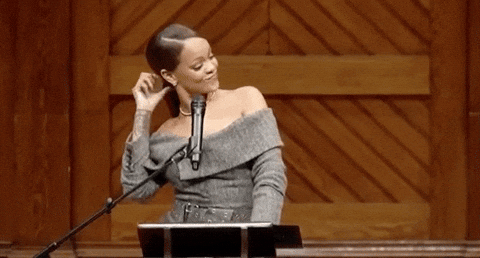 Along with acting, music and fashion, the Barbados native dropped her highly-anticipated Fenty Beauty collection this past September. Featuring a vast palate of 40 distinct shades, Rihanna instantly set a new industry standard for what a diverse beauty line should be. Fenty Beauty even landed itself a spot on TIME Magazine's 25 Best Inventions of 2017 list for its quality and inclusivity.
In a recent interview with TIME, Rihanna talked more about how she built her beauty brand. Here's everything we learned from that interview, including RiRi's advice on how to be a girl boss and turn an idea into an empire.
Make sure you're passionate about what you do.
Whatever you do—love it. It seems so simple, but it's one factor that can easily be forgotten. And for Rihanna, she admits she got it from her mama. "My lifelong obsession with makeup started with watching my mom put her makeup on. I always loved to watch her, and all the funny faces she was making in the mirror. I never understood it until I got older and fell in love with makeup myself and really started becoming obsessed."
Focus on being really great at something specific.
Since skyrocketing on to the music scene in 2005 with Pon de Replay, it's fair to say Rihanna has had her makeup done over a thousand times since then. She's basically an expert when it comes to what works and what doesn't for her skin. By taking everything she has learned, RiRi has been able to establish a beauty empire by carving out a unique space for herself and her product. "I think foundation should look like great skin, so it was important to me that the Pro Filt'r foundation had a soft matte finish because you want a dewy look, but never shiny. We are all so different, with our own unique skin tones, so we started with the 40 foundation shades out the gate."
https://www.instagram.com/p/Bbn7Ee5Fspc/?taken-by=fentybeauty
Get your hands dirty.
The reason Rihanna's Fenty Beauty line feels so close to her personal aesthetic is because she was involved in the process of its creation every step of the way. According to RiRi, if you don't have skin in the game, your idea won't reach its full potential. "I have 100 per cent involvement in this process, which is what makes this so special and very fun," said Rihanna. "I have so much creative freedom, from products to packaging, and that's really the only way this brand will stay true to my vision for it."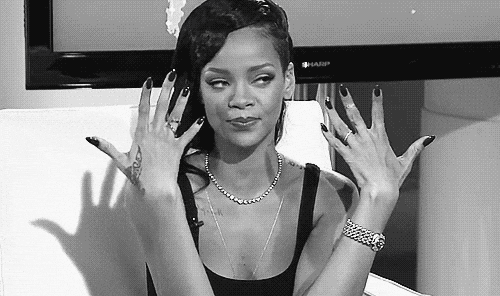 Stay true to your goals.
Sometimes goal setting can seem silly, but if celebs like Rihanna do it and say it works, why not give it a shot? Rihanna wanted to created a beauty brand that was inclusive to everyone, and reminding herself of that and seeing the reactions to those who finally feel included keeps her motivated. "I never could have anticipated the emotional connection that women are having with the products and the brand as a whole," said RiRi. "Some are finding their shade of foundation for the first time, getting emotional at the counter. That's something I will never get over."
Continue to grow yourself and your business.
For Rihanna, innovation is key and she says there's always more to learn when it comes to being a girl boss. "The options are pretty much unlimited in the world of beauty, and I love challenges, so I'm going to continue to have fun and push the boundaries in this industry."
The future of Fenty Beauty will go as far as Rihanna's willing to take it—and she's definitely taking it, and the makeup industry as a whole, to new places.