So, it's the holiday season, and you've taken on the daunting challenge of throwing a party—but this time around, you want to throw a party like an adult, while not breaking the bank. Gone are the days of bare apartment walls and everyone mingling awkwardly while clutching on to their drink for dear life. You're about to be the best host of this year's holiday season.
Deck the halls with DIYs
First, decide on a minimalist colour palette, like red and silver or gold and white. Holiday decorations are really eye-catching, so too many colours would clash instantly. String lights, tinsels and other festive garlands are between $1 and $3 at dollar stores, so stock up on those and line the walls. Light a few Christmas-y scented candles in safe spots where they won't come near clothing, alcohol and your guests. Stick a few candy canes on walls that look a little plain, hang mistletoe and you're set! You can also take the classic route and get cozy with an ugly Christmas sweater theme—that way, your guests also double as the decorations. Below are a few DIY ideas to get you started.
There are other ways to jazz up your party space for just a few bucks. Check out Much Creator Naomi Leanage's ideas in the video below.
Drink cheap and be merry
To make serving drinks easy and cheap, ask your guests to BYOB, but also make a big batch of five-minute punch, sangria or one of these easy holiday drinks. Instead of the typical (and pricey) charcuterie fixings, dress up the bar with nut mixes, savoury chips and assorted (red and green) candies. Hot tip: Don't forget to keep your drinks naughty and nice—offer up pop, coffee and other non-alcoholic drinks for the designated drivers and non-drinkers. Check out Much Creator Chelsi Madonna mix up some holiday cocktails below.
All we want for Christmas is…food
As per our note above, don't stress about snacks. Potlucks are a great way to take the whole grocery bill of your back, but if you'd rather take care of it yourself, finger foods and easy snacks are definitely the way to go, as most people show up to an evening party fed and ready to go. As for food that's in the spirit, grab a few classics, like candy canes, frosted cookies and gingerbread men, but if you need something more substantial, cut a store-bought pizza cut into squares or grab frozen mini quiches, spring rolls or samosas. Frozen snacks to feed 15-30 people will set you back less than $20, and the time you save might be totally worth it. If you're feeling up to baking, here's a recipe for festive ginger molasses cookies—but we believe there's no shame in putting some yummy store-bought treatsout.
Holly, jolly party activities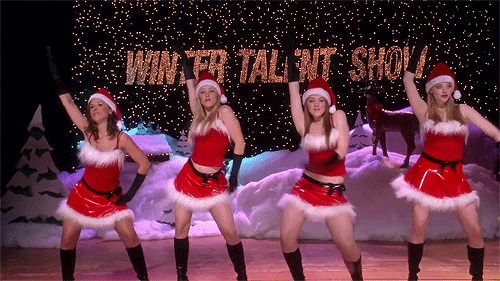 Secret Santa is always a fun way to get people involved—especially if you set the gift limit at $10-20. You can also consider setting up a cute photo area with a  few dollar store props like elf and Santa hats, mistletoe, antlers and giant naughty/nice arrows. On the wall behind the prop table, you could stick ornament balls in the shape of a Christmas tree or pin up some cheap craft store lettering. People will take selfies, but if you're feeling fancy, you could also set up a tripod and camera, and post the photos the next day.
Jingle bell, jingle bell, jingle bell rock
Music is the cheapest and most foolproof way to set the mood. Throw together a playlist of the year's pop hits, because chances are everyone will have heard them. Toss in a classic Christmas song every three or four radio hits, because the holiday music has literally been playing since November. Also, keep in mind that it's not a holiday party without Mariah Carey's "All I Want For Christmas Is You."
And that's it! Putting together an inexpensive holiday party takes a little bit of planning for a lot of fun. Don't forget that you're supposed to have fun as well, so after guests have settled in, pour yourself a warm drink and enjoy the evening.