Following a series of surprising incidents that took place during his Saint Pablo shows in California, Kanye West was hospitalized last night due to exhaustion, and is currently undergoing a psychiatric evaluation.
Kanye's rocky, drama-filled year follows closely in pattern with other celebrities who have been treated as scapegoats and harassed, despite signs of struggling—like Kehlani, Lindsay Lohan and Britney Spears. It's inarguable that celebrities have enormous influence and should be held accountable to their words and actions, but, at the end of the day, Kanye is a person. He has two children, a wife and a life outside of music. We shouldn't forget that about him, and all of the other celebrities who have had very public battles with mental health.
Kanye has always been controversial; from his call-out of George Bush to his interruption of Taylor Swift at the 2009 MTV VMAs—he's been known to speak his mind. However, at his San Jose show last Thursday, Kanye gave the audience a particularly shocking stream-of-consciousness lecture, saying that had he voted in the recent US election, he would've voted for Donald Trump.
It didn't end there. On Saturday in Sacramento, he arrived to his show 90 minutes late, performed three songs, then spoke about a myriad of topics before walking off stage, leaving fans angry.
He talked about his distaste for today's radio hits, asked DJ Khaled and Jay Z not to send hit men his way, criticized Obama for being unable to "change sh*t," and called Beyoncé out for only agreeing to perform at the 2016 VMAs if she won Video of the Year.
He said Google and Mark Zuckerberg were liars. He talked about aliens. He said the Saint Pablo tour was the "most relevant shit happening."
Kanye's latest rants left even the most devoted of fans disappointed and confused, and celebrities were scratching their heads too—Snoop Dogg responded to Kanye's Sacramento rant with a video, saying "I can't believe he's still talking… I smoke weed, and weed don't make you do that, what the f*ck is he on?"
Rapper Lil Debbie said Kanye "needs to hit a joint and figure his life out."
However, prominent #BlackLivesMatter activist Deray McKesson also tweeted about Kanye, saying that even though the rapper is very different today, he hasn't given up on him.
Many other people who tweeted about the incident speculated that Kanye "needs help."
This year, Kanye made headlines often and seemingly for only negative reasons. He tweeted in defence of Bill Cosby. He tweeted about being $53 million in debt. He tweeted to Mark Zuckerberg and asked him for $1 billion. He had beef with Wiz Khalifa and Amber Rose.
His feud with Taylor Swift over misogynistic lyrics in his song "Famous" was one of the most discussed moments in 2016 pop culture. His Yeezy season 4 fashion show was criticized after a series of mishaps made the models and guests at the show uncomfortable. He feuded with Kid Cudi, then patched things up, calling him the "prodigal son." He said he wants Will Ferrell to play him in a biopic. He showed up late, cut short or cancelled several shows on his Saint Pablo tour, which the remainder of has been cancelled altogether.
Several sensationalist news outlets reported that Kanye was violent, attacked people and was taken to the hospital in handcuffs, while a rep later said Kanye willingly went along with medical personnel to the UCLA Medical Centre, where he is currently on watch. Piers Morgan offered predictably irresponsible opinions around Kanye's mental health—suggesting that Kanye's wife Kim Kardashian was to blame (it has come to light that Kim cancelled her first public appearance since her Paris robbery to be with her husband).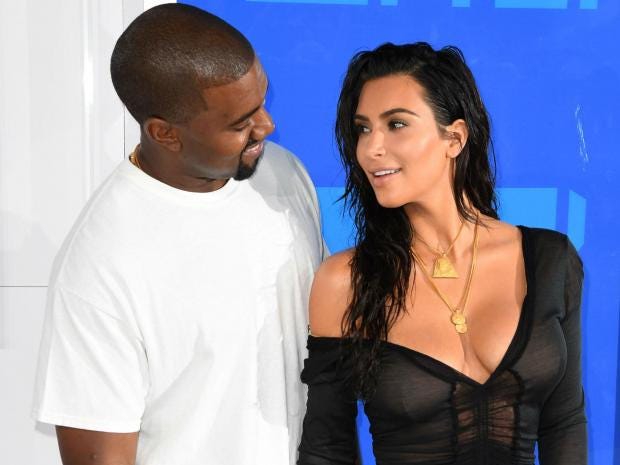 At this time, all we hope is that Kanye recovers well, and that Drake doesn't diss him for being human. We hope that Chris Brown doesn't say this is a publicity stunt.
We hope celebrities follow in Chance The Rapper's suit and wish Kanye well, and that his struggles spur important conversation like the #YouGoodMan hashtag that circulated after Kid Cudi checked himself into rehab. We hope that instead of calling Kanye "crazy," we recognize that words like "crazy" are used to put down people who are struggling with their mental health. We hope that, instead of making jokes, we take a second to recognize the signs of mental illness in our own lives and in the lives of others—and try to do better.